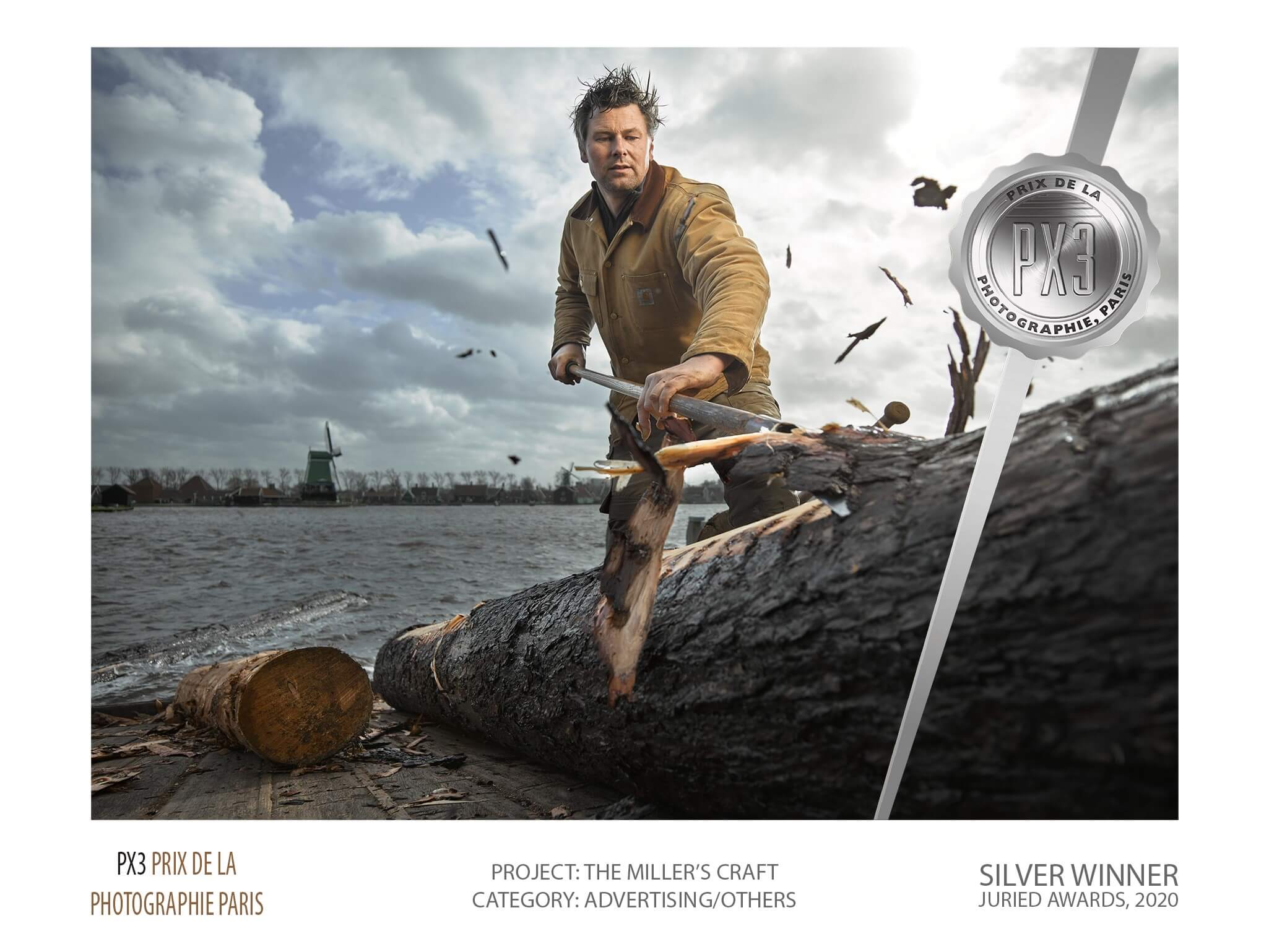 Eerste wisselexpositie in het Molenmuseum in de prijzen gevallen
In all types of weather and from sunrise to sunset, photographer Jeroen Nieuwhuis has been capturing the daily activities of our millers. In addition to a successful exhibition, we now present to you a book of the prize-winning photo series.
The exhibition
Knights of the Windmill
A tribute to the miller's craft
Millers are one of a kind. They are devoted to their windmill. About 40 millers work on the 13 windmills of De Zaansche Molen. In 2017, the miller's craft was inscribed on UNESCO's List of Intangible Cultural Heritage. In June 2020, two of our millers have been awarded a knightly order because of their great merits for the preservation of the miller's craft. The knowledge and expertise of our millers are invaluable.
This tribute to the miller's craft is created in collaboration with photographer Jeroen Nieuwhuis (NEW DAY studio) and videographer Jan Minkhorst (Icon Visuals). During the spring of 2020, they photographed and filmed the daily activities of the millers. In doing so, they emphasize the passion and craftsmanship of working in the monumental windmills. The combination of manual labor, romance, hard work and skill appeals to the imagination of both experts and non-experts.
The photos in this exhibition form a permanent part of the new visual identity of the World of Windmills.
We would like to thank all our millers for cooperating.
Exhibition concept by Bregje Jansen & Resi Veenman.
This project is sponsored by Gerrit Blaauw Fonds.
The book
A splendid hardcover photo book
Photography: Jeroen Nieuwhuis, commissioned by De Zaansche Molen.
Forty unique miller's portraits in a high quality hardcover book.
Full color, on 200 grams photo paper, 48 pages, 40 x 30 cm landscape. A true collector's item!
Price pre-order till December 31, 2020: € 34,95. From January 1st 2021: € 39,95.
As soon as 200 books have been ordered, we will start the production of the book. In these uncertain times we want to minimize the financial risk for De Zaansche Molen. We hope for your understanding in this matter.
ORDER HERE